Kay Marquet is an award-winning CEO, fundraiser and community builder, with more than 30 years' experience in community foundations, private foundations and community benefit organizations.
Kay and associates are available to answer your inquiries.
Previous Slide
Next Slide
Community Foundation Services
Steps to grow your Community Foundation
Community Impact Programs
Design and Implementation Plans
Private Foundation Services
Program Design for Community Impact
Partnership Development
Short term and long term goal setting
Not for Profit Organization Services
Legacy and Planned Giving services
Messaging for donor engagement
About Kay
With a career spanning three decades in a variety of arts, community, youth and other organizations, Kay is well prepared to help your organization move to the next level of development. more »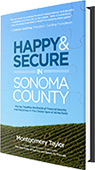 Kay Marquet Joins Best Selling Author Montgomery Taylor in Co-Authoring the book Happy & Secure in Sonoma County
In the book Montgomery Taylor collaborated with successful individuals from diverse fields. Kay Marquet added her chapter, "Making Dreams Come True." She has over 30 years experience serving community foundations, etc. www.kaymarquet.com. Kay Marquet's chapter, "Making Dreams Come True", shares how to process your philanthropic dreams and make them a reality. For more information please visit www.happyandsecureinsonomacounty.com.
Please contact Kay by email or phone (707-527-0666) to receive a copy of the book.